WEB DESIGN SERVICES IN
DUBAI, UAE
Premium web design packages for unbeatable prices with fast hosting and incredible support.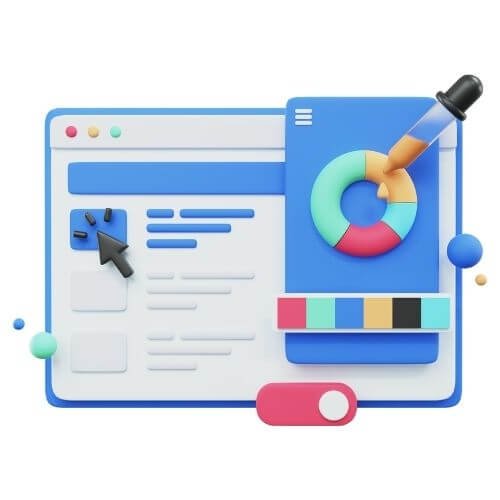 Stand Out Online with Professional

Web Design Services in Dubai, UAE
In today's digital world, an outdated or non-existent website essentially erases your business from the online landscape. With 73% of consumers trusting a company's website over other sources, establishing an authoritative web presence is crucial. Professional web design services in Dubai and the UAE empower businesses to showcase offerings, build credibility, and connect with customers online.
Rather than settle for cookie-cutter templates, partner with the web design experts at AH Digital. Our customized web design services in Dubai provide strategic solutions tailored to your brand and goals. With affordable packages, unparalleled support, and a proven methodology, we create websites that captivate audiences and deliver real ROI. Don't let your competition edge ahead – work with a premier web design agency to craft the online presence your business deserves. Discover how our Dubai web design services can establish your digital footprint and drive success.
Top Features of Our Web Design Services
The web design experts at AH Digital provide comprehensive services tailored to establish and elevate your online presence. Our Dubai web design services include:
AH Digital is the Right Web Design Company in Dubai for You
With a proven track record over the past years, AH Digital has the expertise to take your website to the next level.
Local Web Design Company Focused on UAE Businesses
As a local company in Dubai, we combine deep knowledge of the market with world-class web design skills. We are the right fit if you're searching for "web design company near me".
Tailored Website Design Focused on Conversions
We don't follow templates or cookie-cutter designs. Instead, we craft bespoke solutions optimized for your business KPIs whether that's leads, sales, or bookings.
Designed for Search Engine Optimization
Our websites aren't just visually appealing – they are built from the ground up with SEO best practices for improving Google rankings
Our 6 Step Web Design Process
At AH Digital, our professional web design services in Dubai involve a streamlined 6-step process for creating exceptional websites. We start by consulting with you to understand your business, audience, competitors and design aspirations to inform our strategic approach. Our team then crafts sitemaps, wireframes and an initial layout for your feedback to finalize the site blueprint.
With your creative approval, our designers expertly build a visually stunning, on-brand website tailored to your needs. Our developers integrate robust functionality using web development best practices. We thoroughly test every site for flawless responsive design, speed and cross-device compatibility. Before launch, we optimize each website for search engine visibility. Our typical timeline is 7-10 days, with more complex projects taking longer. Throughout the process, we update you on progress to meet your launch goals. Our proven web design services deliver websites designed to captivate your audience and drive real results. Partner with AH Digital to establish an authoritative online presence.
Discovery
Our initial meeting explores your website requirements and design style.
Build
We start creating the website according to your requirements.
Feedback
We share the initial website design and ask for your feedback.
Revision
We revise the website design referring to your feedback.
Optimization
We test your website across each device for responsiveness and optimize your new website for search engines.
Launch
We officially launch your new website online for the world.
At AH Digital, our goal is to provide budget-friendly website design without compromising on quality. While we offer flexible custom solutions, our core web design packages in Dubai make professional sites accessible for small businesses. Ready to get started? Contact our experts today for a free consultation on crafting a website tailored to your brand and budget. Partner with a web design agency focused on your vision, not just billable hours.
Events / Portfolio / Landing Page
Medium to Large Sized Businesses
See why our clients love working with us!
Abdul Hameed's in-depth knowledge of different tools related to search engine marketing is truly remarkable. Working with him is a fulfilling experience, and is worth it all!
We are truly impressed by how AH Digital have managed our project with confidence and hardwork.
Check out some of our most recent projects of web design service for our clients
Our customized web design services give you complete control over your website's structure and pages. However, we recommend considering these core pages for optimal navigation, engagement and search visibility:
Optional Web Design Pages​
While core pages l establish a solid website foundation, additional tailored pages can further enrich your site's value for users. Some common pages our professional web design services in Dubai incorporate include:
Are Our Packages Right for You?
Things to Know About Our Web Design Packages
Ready to establish your presence online?
Fil the form below and we will get back to you ASAP!
Full Details of Our
Web Design Packages
Premium Web Design Services in UAE
With years of experience, our web design company in Dubai has been helping small businesses build their online presence. Explore our summary of popular web design services available in the UAE.
We create websites using the widely used WordPress CMS framework. With WordPress powering over 40% of global websites, it's a versatile solution for standard websites and online stores. Our WordPress designers collaborate with you to build a site aligned with your business values, ensuring easy navigation, speed, and responsiveness.
Leading Website Design Company in UAE
We're a UAE-based website design company situated in Dubai. Our skilled and close-knit team of web designers crafts each website design internally, without outsourcing. From the start, you'll have a dedicated contact, and our support and customer service continue to excel even after your website is complete.
Small Business Web Design in The UAE
We focus on assisting UAE-based small and medium-sized businesses (SMEs). Our web design service for small businesses is competitively priced, aiming to provide an affordable way for online exposure. We create modern, responsive, and search engine-friendly websites to meet your needs.
Frequently Asked Questions